Crown Lab - Proven Dental Lab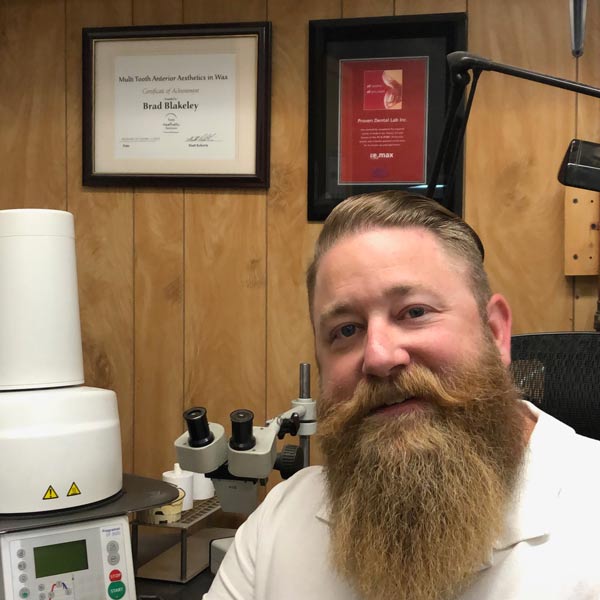 Our laboratory partner is Proven Dental Lab located in Livingston Montana. The owner/operator is Brad Blakeley. With over 20 years of experience, he has the expertise, knowledge, materials, and experience to create a smile that you will love to show. Brad began his training in a high quality lab in Missoula Montana in 1998. Over the next 6 years, he honed his skills under the guidance of seasoned technicians.

In 2003 Brad's Army Reserve unit was called to active duty for deployment to Iraq. After serving in Iraq for a year, he returned to his beloved Montana. Upon returning, he settled in Livingston. There, he was hired on at a premier dental laboratory. Here he became proficient in Aesthetic smile design, implants, and full mouth reconstructions. During the next 6 years, he completed his training to create smiles that can last a lifetime.

After 12 years of study under a master technician and thousands of completed dental restorations it, was time for him to follow the American dream and open his own laboratory. Shortly after opening Proven Dental Lab, Brad met Dr. Samson who had also just opened his practice. This was a match made in heaven and you, the patient, are the beneficiary. You can rest assured that your dental restorations are being handled with the utmost care and attention to detail by a premier dentist and a meticulous dental technician. This team truly cares about each and every patient. Dr. Samson and Brad are both Montana natives who look forward to serving their friends and neighbors in this beautiful area that we are so blessed to live in. Making an appointment with Dr. Samson is the first step to the smile that you've always dreamed of!


Crown examples